10 Bad Ideas When Hiring YOUR Next Cleaning Company
Posted on 13 June 2021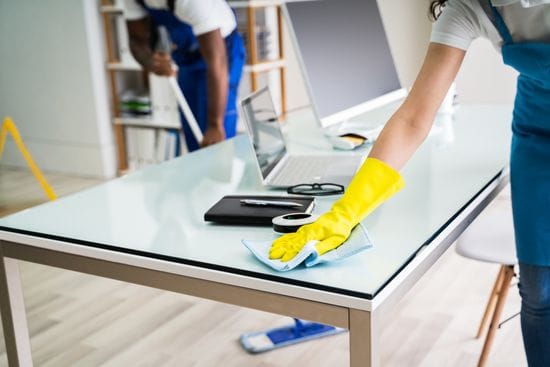 BAD IDEA #1- Insurance: Really want to roll the dice with your company's security? "Save" a couple of bucks and turn the keys to your kingdom/ building over to a company without sufficient workers compensation or general liability insurance?
The party really starts when something valuable turns up broken... or missing... Don't even get us started if you have sensitive client information that YOU are responsible for...
But wait, there's more!! If someone gets hurt while on YOUR property and your low rent/clean-for-a-nickel cleaning company doesn't have workers compensation insurance, you can look forward to a NO expenses paid trip to court... so there's that...
BAD IDEA #2- Illegal Workers: Want to know the BEST way to get a RIDICULOUSLY CHEAP cleaning service? Hire someone that hires illegals and pays them slave wages! Sure, your company will be contributing to vulnerable people getting taken advantage of, but you can show the boss you saved a couple of bucks AND invited a gaping liability into your business!!
BAD IDEA #3- They Don't Need ID's: It's always fun for your most committed employees who show up early and stay late to have random - looking unidentified people wandering your facility. Without saying so, your staff may under perform from being uncomfortable around Mr.Stares-a-lot.
You can have this scenario play out at your facility, night after night simply by hiring cleaners with no uniforms, no badges with picture ID and if you're lucky, no criminal history, which brings us nicely to...
BAD IDEA #4- Background Checks are for Chumps: Sure some of those fancy cleaning companies are going to show off by performing background checks on their employees, but is it worth the extra costs?
Some businesses find it a lot more fun to find out that cheery fellow with the garbage bags was in prison for a violent offense AFTER some terrible thing happens in your office. Sure it could have been avoided but when you need to save a couple of bucks per hour - the people you give your office keys to is a great place to start!!

What if I HATE Change??

BAD IDEA #5- NO Stress Free Transition Plan: Do you absolutely love uncomfortable conversations with vendors who have the keys to your office and have been doing a terrible job? How about telling them to pack up and leave? What about worrying if you need to change the locks? Making switching cleaning companies your part time job for the next couple of months? If that sounds like you, hire any cleaning company you like, BUT If you're one of those regular people who just doesn't want to deal with it- find a company with a Stress-Free Transition Plan that includes having the conversation for you, changing the locks and looking after all of the details, not to mention eliminating our very next bad idea...
BAD IDEA #6- 16 Page Service Agreement: You know what screams "trustworthy"? Someone serving you a 16 page Contract just to sweep up at night, and telling us "it's just a technicality"... You'll get to that as soon as you get through all of those Terms of Service "contracts" you've b been agreeing to on the interwebs...
Or you could find a company with a Simple- ONE PAGE service agreement that you don't need to have your legal team decipher.
BAD IDEA #7- Sending Bills & Checks: Sure it's fun to killtrees, drag them out of the forest and slice em up real thin so you can spray ink on them and create paper bills & envelopes, but 1983 is going to want it's business practices back. And paying Gertrudein computer 'real important like' for a print it later, find a stamp, haul it to folks at the government to deliver it as didn't get cleaned because Gertrude employee wasn't up for the task OR from good old 2018 with automated A/P to open said dead tree, tap on the couple of minutes, file it away so she can the post office and trust those fine agreed. Just your luck if your office was on vacation or said government you could just pick a cleaning company monthly billing and go on living your life...
What if You Are a Big Fat Liar?

BAD IDEA #8- No Guarantee: "We'll do a great job trust us" Said every cleaning company who was just about to do a terrible job...
Written guarantees are for business owners who don't only want their cleaning company to do what they say, AND make it right when they screw up, but to make it BETTER than right when they make a mistake for putting you through the wringer! Is that too much to ask??
Probably but give us a call and we'll do just that for you anyway! Ooooorrr... Save a buck and trust the handshake, because THAT will work out...
BAD IDEA #9- Their Mom says they are ok: Get a bid that says "References Upon Request" and move on. If you're anything like me, getting a bid that says "References Upon Request" translates into "Do my job for me chump" or "I don't really have any references so I'm really hoping you don't call my bluff here" Ok, fine, maybe they throw a couple "references on their website like: "XYZ cleaning was swell - Mike at MikeCo"

Those don't sound shady at all...Do yourself a favor and treat yourself to a company that has DOZENS of real life people sharing how their lives are actually BETTER because of their cleaning company.
Get crazy and hold out for videos with first & last names- contact info, so you know you are getting the real deal- c'mon you're worth it!
BAD IDEA #10- No Checklists or Communication:If your job description states 5-10 hours/ day playing phone tag with the janitorial staff, then you don't need any of that
checklist/communication nonsense!
However, if you get paid to do something a little more stimulating than that, you deserve a company that uses real life high-end technology (like Swept) to track: Exactly WHO is in YOUR building to the second!
Checklists & Inspection reports
Real time problem reporting
Real time Pictures of your facility
Customized cleaning instructions
Supply tracking
And most importantly, the ability for you and your cleaners to communicate if ever needed - you can have it all!!
What do I do NOW?
Ready for a GOOD idea? Give us a call RIGHT NOW at 647-564-8861, tell us you stuck with us on this fine document all the way to the end and let us schedule your FREE cleaning!
No catches, if you have THIS list, we are committed to making your facilities management life 36% better and put our money where our mouth is!!
We have LIMITED availability for FREE cleanings so call 647-564-8861 right NOW before those bad boys run out and you miss out! We can't wait to make your life better!!